By Rob Thomas
As you pull into the main entrance of Dancing Rabbit Golf Club, the majestic clubhouse greets you with its massive wrap-around veranda and distinct colonial feel.
Golfers are readying for their round by warming up on the massive practice area, the flowers are popping and the birds chirping. It's almost inexplicable to think that just a short golf cart drive away sits all of the glitz and glamour of a full-blown casino resort. 
But it's exactly that contrast that makes this pristine piece of land tucked in the middle of the Pines Region of Mississippi so unique. "When you pull up to the clubhouse here, you'd never know a whole new world of first-class entertainment and gaming is just a driver, 5-iron down the road," beams Dancing Rabbit Director of Golf Mark Powell. "If you like tranquility of a golf club setting, we have it here. Sit at the clubhouse and just take in the views. But if you decide you want to play some slots and have dinner and drinks with your group, that choice is sitting right there, as well. We have a lot of options and it's a big reason why we attract golfers from all over the world."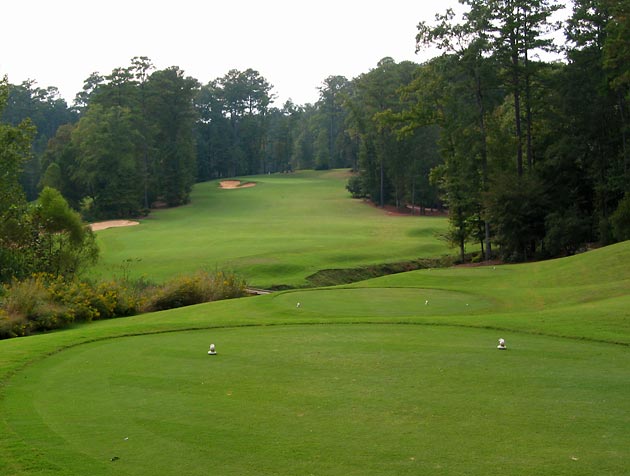 Golf aficionados have certainly come to love the two Dancing Rabbit courses – the Azaleas and the Oaks – that sit on the ancestral lands of the Mississippi Band of Choctaw Indians. Both courses were listed among the Top 5 in Mississippi in last month's biennial state-by-state rankings in GOLF Magazine, with the Azaleas landing at No. 32 on the "Top-100 Best Courses You Can Play" in America.
The Azaleas opened in 1997 and was quickly called "The Augusta You Can Play" by GOLF Magazine because of the immaculate conditions and dramatic design. While the Azaleas features an abundance of vibrant flowers, creeks and valleys, its counterpart, The Oaks, which was built in 1999, features more has more elevation changes, water and rock formations.
Dancing Rabbit – named for its location in the banks of Big and Little Dancing Rabbit Creeks – is as well-known for its tremendous golf offerings as it is for the clubhouse, which in addition to housing a restaurant and award-winning pro shop is also home to eight king suites on the second floor that include a whirlpool and access to the veranda. Overnight guests of the clubhouse are also provided use of a golf cart – complete with head lights – to get around the property.
"Our guests love the fact that they never have to touch their golf bag once they arrive," adds Powell. "Once you hook the clubs up to your golf cart at the start of the round, you won't have to handle them again until you leave the property."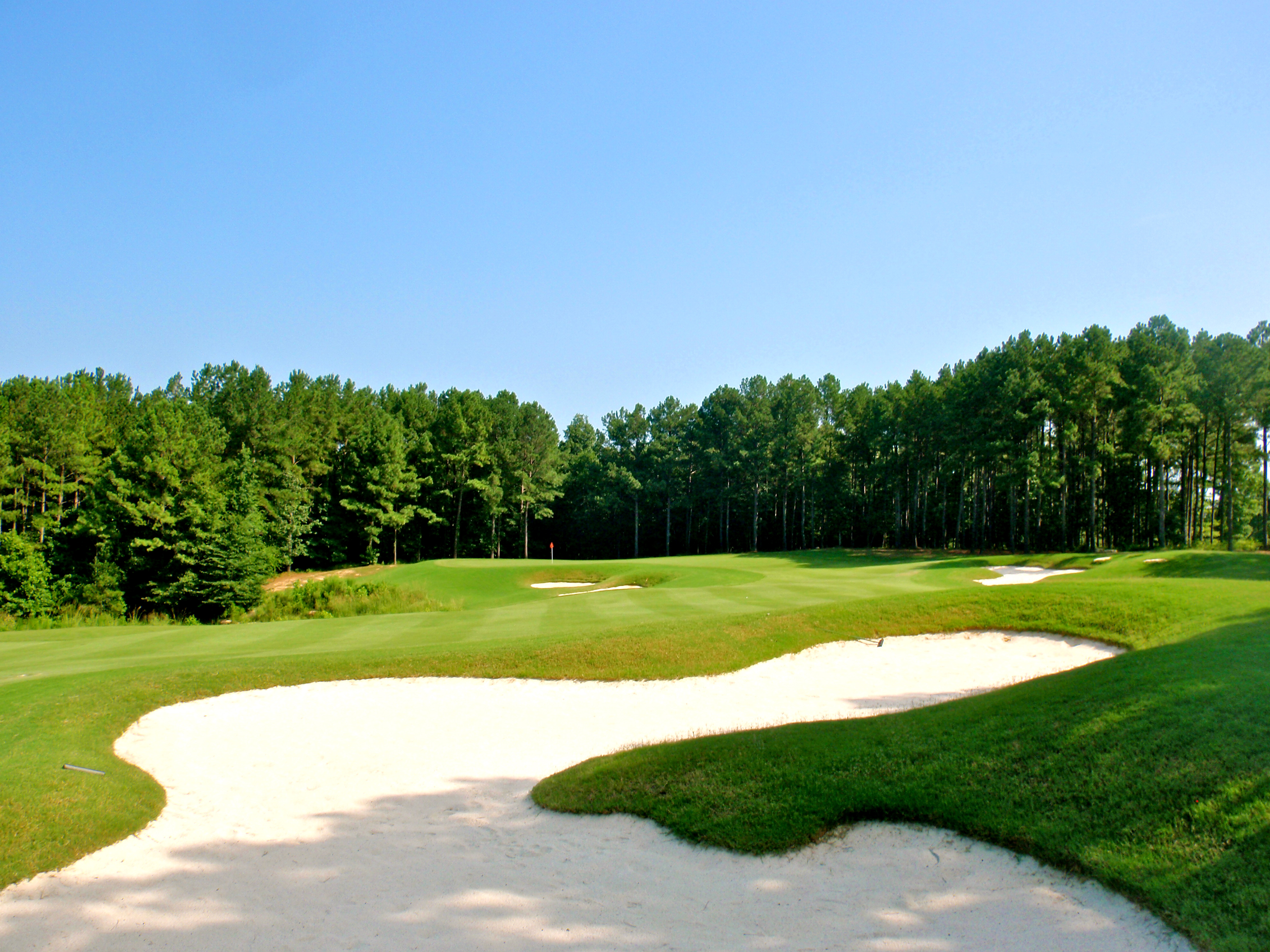 The carts are also used to scoot over to the Pearl River Resort where there are more than 1,000 guest rooms, three casinos offering Las Vegas-style gambling, 11 restaurants, a spa, pool, water park and events center that attracts big-name acts such as BB King and Bill Cosby.
The central location in the heart of the state also allows guests to visit other popular golf locations in Mississippi, which offers five regions, all unique in their own way.
About two hours south, sits Hattiesburg, a popular destination that offers an intimate "small-town" feel with its charming downtown area, complete with some of the South's finest cuisine, shopping and cultural stops.
For golfers, the area is best known for Timberton Golf Club, which boasts three nine-hole layouts that are challenging, yet fun for all handicappers. The newest creation – the Lakeview Nine, which opened in 1998 – is carved out of a timberland (how fitting?) and may be the tightest of the three. The Creekside and Valley courses offer more elevation changes and trees, however. All three layouts feature stunning topography, which makes it no surprise that the course has received "Best-in-State" honors from both Golf Digest and Golfweek magazines.
Further south is the Gulf Coast of Mississippi, or otherwise known as "Casino Coast." Mississippi is one of North America's largest gaming destinations and on the Gulf Coast you'll find 12 casinos, as well as some of the best courses the state has to offer.
The region has more than 20 golf courses — all within a close proximity — that provide a wide variety of price points and the designs of legendary names such as Arnold Palmer (The Bridges), Jack Nicklaus (Grand Bear) and Donald Ross (Great Southern). In fact, when Golfweek released its Top-50 Casino Courses list in December, five Mississippi Gulf Coast courses were honored, led by Fallen Oak, a Tom Fazio-masterpiece that ranked No. 2 on the list, just behind its sister course in Las Vegas, Shadow Creek.
Fallen Oak – which annually hosts the PGA Champions Tour's Mississippi Gulf Resort Classic – is exclusive to guests of Beau Rivage Casino Resort, an MGM International property where the poker room is world renowned. Beau Rivage (French for "beautiful shore") brings a Las Vegas feel to the coast and that's no coincidence since it was designed by Sin City icon Steve Wynn. A day at Fallen Oak begins with a limo ride to the course, followed by first-class locker room and caddie service and 18 holes that wind through century-old oak trees, streams, lakes and magnolia groves. The 19th hole – notorious for its scrumptious Bloody Mary and sunken down bar overlooking the majestic 18th hole – is the perfect spot to relax following what promises to be a highlight of any golfer's voyage. 
Like Fallen Oak, many of the other courses in the area serve as amenities to the casino resorts on the Gulf Coast that employ more than 11,000 people and offer more than 5,000 hotel rooms, including the Hard Rock Hotel & Casino Biloxi, which bring its usual hip style and service to the coast and sits right next door to "The Beau."
"All five regions of the state are distinct and that's what makes it such a unique place to visit," says Janet Leach, the Golf and Sports Program Manager for the Mississippi Development Authority, who is also a Mississippi native and avid golfer. "When it comes to Mississippi, seeing is believing. We're confident that anyone who visits will leave the state a big fan of the wide array of golf courses, genuine Southern cuisine and the music, entertainment and gaming that is widely available."
For more information about these courses or resorts,  visit www.visitmississippi.org or call toll-free 1-866-801-8551.