Myrtle Beach, South Carolina will always be golf's all-you-can-eat buffet. Nearly 90+ golf courses call this beautiful place home. DG Golf Management owns and operates MysticalGolf.com, which runs 3 beautiful golf courses in the area. — The Witch, The Wizard and Man O' War — all three courses pose a challenge to golfers of all levels and all three courses are very different from one another.
Architect and North Carolina native Dan Maples was the designer behind these golf courses. Man-O-War and The Wizard are located in the same property just minutes from Myrtle Beach's famed Ocean Boulevard beachfront resorts and The Witch is just a couple of miles away.
Hurricane Matthew touched down just weeks prior to my arrival affecting areas from Florida through to North Carolina, causing damage to many golf courses. The great team of Claude Pardue, CEO of DG Golf Management was able to restore all three properties to top shape in a matter of days.
Playing all three golf courses is a must if you are vacationing in the area, they are very different tracks, one gets the opportunity to enjoy 3 courses with very different layouts and "personalities" and that's something unique when vacationing.
Review
The Wizard has to be a Myrtle Beach favorite; you will love and appreciate its bent grass greens that roll very true. We were able to see some damage after the hurricane but it was minimal. The Wizard is a Scottish-style track with sod-faced bunkers, elevations and almost no water. The links style golf course is wide open but the wind can be a factor. If you are straight off the tee you will be able to score well but save some gas in your tank, the closing holes are very difficult and demanding.
The Witch is pure target golf! A very demanding golf course that sits on 500 acres of swamps, cypress groves and wetlands. You will get to see Bald Eagles, Blue Herons and lots of alligators. My suggestion to those who adventure this hidden gem is to leave your driver in the trunk of your car and place the ball where you see open areas, danger lurks in ever corner. The speed of play during our round was excellent and I got to appreciate how Dan Maples was able to take advantage of this beautiful Carolina land.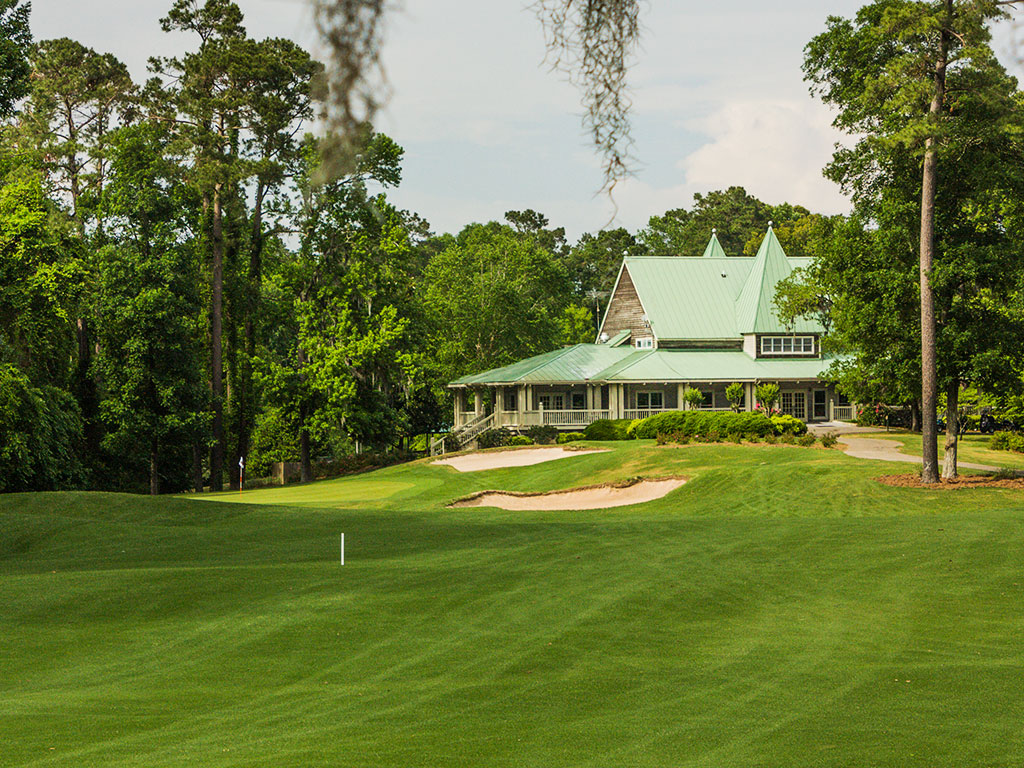 Man-O-War was the course I enjoyed the must during my visit to Myrtle Beach. You wouldn't expect to have fun in a track that was built over a lake and that has water hazards in every hole but once again I praise Mr. Maples for his ingenuity. Fast and tricky Bent grass greens, tall Carolina Pines and wide rolling fairways sum some of the attributes I give to this magnificent golf course.
Planning your next trip to Myrtle Beach? Then you should include The Mystical Tour on your plans. With very competitive green fees, challenging golf courses and above all great southern hospitality you will love your vacation to this beautiful corner of the world.
I have to give thanks to The Breakers Resort for their hospitality, delicious food and a great room with a gorgeous view of the Atlantic Ocean. Also kudos to all three Mystical Golf Courses and their staff, ground crew and management (Randy, Graham and Tim), for a speedy recovery from such a big storm, and of course big thanks to a terrific human being named Claude Pardue whose sweet southern accent and big smile made this trip possible.